eye candy - Training School
If you ever thought of a career in the Beauty Industry, or if you are interested in learning how to update and refine your skills as a nail technician, then let eye candy help you on your journey!
Trainer, Elaine Moore, has over 22 years in the nail and beauty industry and since qualifying as a professional trainer has been helping students to learn new skills and perfect existing ones!

Elaine is also a Crystal Nails Educator, and teaches One Stroke Nail Painting
If you are interested in any of the training courses on offer, or don't see what you need, then give us a ring or call in to discuss what eye candy can do for you!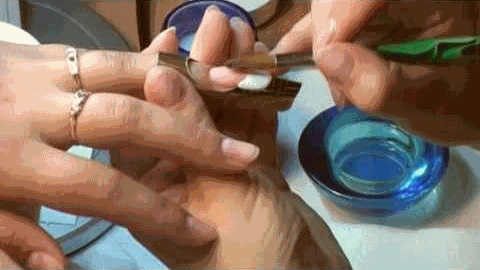 For each training course you will receive a full and comprehensive set of theory course notes and a kit (where stated) which will contain all the products and equipment needed to start you off!
Upon successful completion of the course, you will receive a diploma certificate, accredited by ABT which will allow you to gain insurance to work on the public.
It is your responsibility to ensure you have the correct insurance cover for the kind of work you will be under taking.
No insurance cover is needed whilst on the course.
Date
Course
Description
Cost
3 June 2013
09:30 to 14:30

Eye Treatments
Eye Treatments course covering eyebrow shaping, eye lash and eye brow tinting. Strip lash application and individual party lash extension application.
£150 kit included.

10 June 2013
09:30 to 14:30

Gel / Silk /Acrylic Workshop
Gel/Silk/Arylic workshop day. Workshop courses are designed for nail technicians who already have practical experience in the nail industry, and are wanting to increase or update their skills. Model required. Products/Lamps available to buy on the day,
£80.

17 June 2013
09:30 to 14:30
Free Hand Nail Art
Suitable for Experienced Nail Technicians, looking to learn new techniques. Covers flowers, leaves, bows etc. and others.
£80.
No Kit Included!
1st July 2013
09:30 to 14:30
3 consecutive Mondays
Introduction To Nail Extensions

Ideal for beginners. Starting from the theory right the way through to Acrylic and Silk Nail application.
£335.
Kit Included!