eye candy - Rejuvenation Facials, Botox And Fillers And Skin Peels
Rejuvenation Introduction
Carried out by fully qualified and insured visiting Paramedic Consultant - Jeanette McKennan of Rejuvenation.
I am a fully qualified, insured mobile cosmetic aesthetic practitioner, specialising in wrinkle relaxing injections (Botox©), Dermal Fillers, Facial chemical peels and Derma roller.
I will be available for a FREE personal no-obligation consultation to discuss anti aging treatments at your convenience.
Please make an appointment for an informal chat to see if I can REJUVENATE your appearance.
Please call 01709 700 700 to book an appointment or for a free consultation at eye candy.
Rejuvenation Botox And Fillers
As we naturally age overactive muscle movement gradually wears away the collagen in our skin, causing skin to crease and wrinkles to Appear.
Line and wrinkle relaxing treatments (Botox©) relax the muscles preventing formation of wrinkles and smoothing out lines. This treatment works only on the specific muscles injected leaving the surrounding muscles to function as usual, enabling facial expression with less wrinkles.
WRINKLE RELAXING INJECTIONS (BOTOX©)
1 AREA
£160
2 AREA
£180
3 AREAS
£220
Advanced areas available, price on request.
HYPERHYDROSIS (excessive sweating)
ONE FULL TREATMENT
£399
DERMAL FILLERS (JUVEDERM)
JUVEDERM 2 0.55ML
£160
JUVEDERM 3 0.55ML
£180
JUVEDERM 3 0.8ML
£210
JUVEDERM 4 0.8ML
£220
Discounts available on further syringes.
Rejuvenation Facial Skin Peels
Medical grade Facial skin peels are a deep exfoliation procedure, removing the top layer of skin to reveal fresher, brighter complexion.
This simple, safe but effective treatment is used to reduce the visible signs of aging on more mature skin, reducing the appearance of fine lines, discolouration and blemishes for a fresher, radiant and more youthful look to the skin. Equally, they can be of great benefit in younger skin or treating acne, delivering a fresh, healthy, glowing complexion.
While a single peel will deliver a noticeable benefit, usually a course is recommended for optimum results.
FACIAL CHEMICAL PEELS.
GLYCOLIC PEEL (LIGHT)
£60 each
GLYCOLIC PEEL (LIGHT)
£150 course of 3
LA PEEL(MEDIUM)
£120 each
Buy 2 Get One Free
DERMA ROLLER. (Micro Skin needling)
ONE TREATMENT
£229
CONSECUTIVE TREATMENTS
£189
Peel Before And After Photographs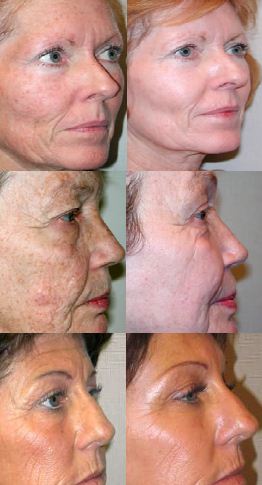 Please call 01709 700 700 to book an appointment or for a free consultation at eye candy.